Bishon fries puppies as christmas gift available @clawsnpawskennel - Raipur
Monday, 9 January 2012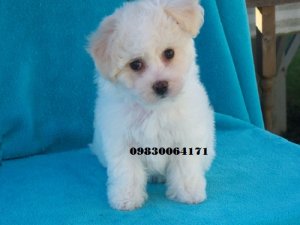 Item details
City:
Raipur, Chhattisgarh
Contacts

Sangeeta Banerjee

9830064171
Item description
Breed name: Bichon Frise
Colour: only comes in white colour
Paper: KCI Registered.
Age:2 mon
Available with vaccinated card and dewormed on 21days of the pup.
We Offer Bishon fries which come from champion bloodline and imported parents.We Have both male and female puppies availableThe Bichon Frise is sensitive, responsive, affectionate, and abundantly playfulIt is a perky, jumpy, happy dog that loves companionship and is happy to cuddle up. The Bichon Frise is eager to make friends with strangers, other dogs and children. It is a family dog, is highly intelligent, making training a fairly simple task.We take care of delivery for all over India. No transportation charges. Please call us on 9830064171 or email us at clawsnpawsplanet@gmail.com. Visit us at www.clawsnpawskennel.com.